Surprise Engagement Proposal - from Alabama to Northern Ireland
Northern Ireland has to be one of the best places to propose! We have so many amazing locations, from the mountains of Mourne to the wild and rugged cliffs of the Causeway Coast and the Wild Atlantic Way. Wherever you decide on for your Northern Ireland proposal session, embrace the weather and you will be guaranteed an experience you'll never forget!
Hunter & Johnnie travelled from Alabama in the United States to spend 7 days exploring Ireland. Basing themselves in Dublin and Belfast, they then headed north to the Causeway Coast on a road trip. Johnnie reached out to me before the trip and we planned his surprise proposal at the Whiterocks Cliff Path, which gave us amazing views along the cliffs towards Dunluce Castle and the Causeway. I've spent years shooting and exploring this coastline in all sorts of weather conditions and it still amazes me every time I visit.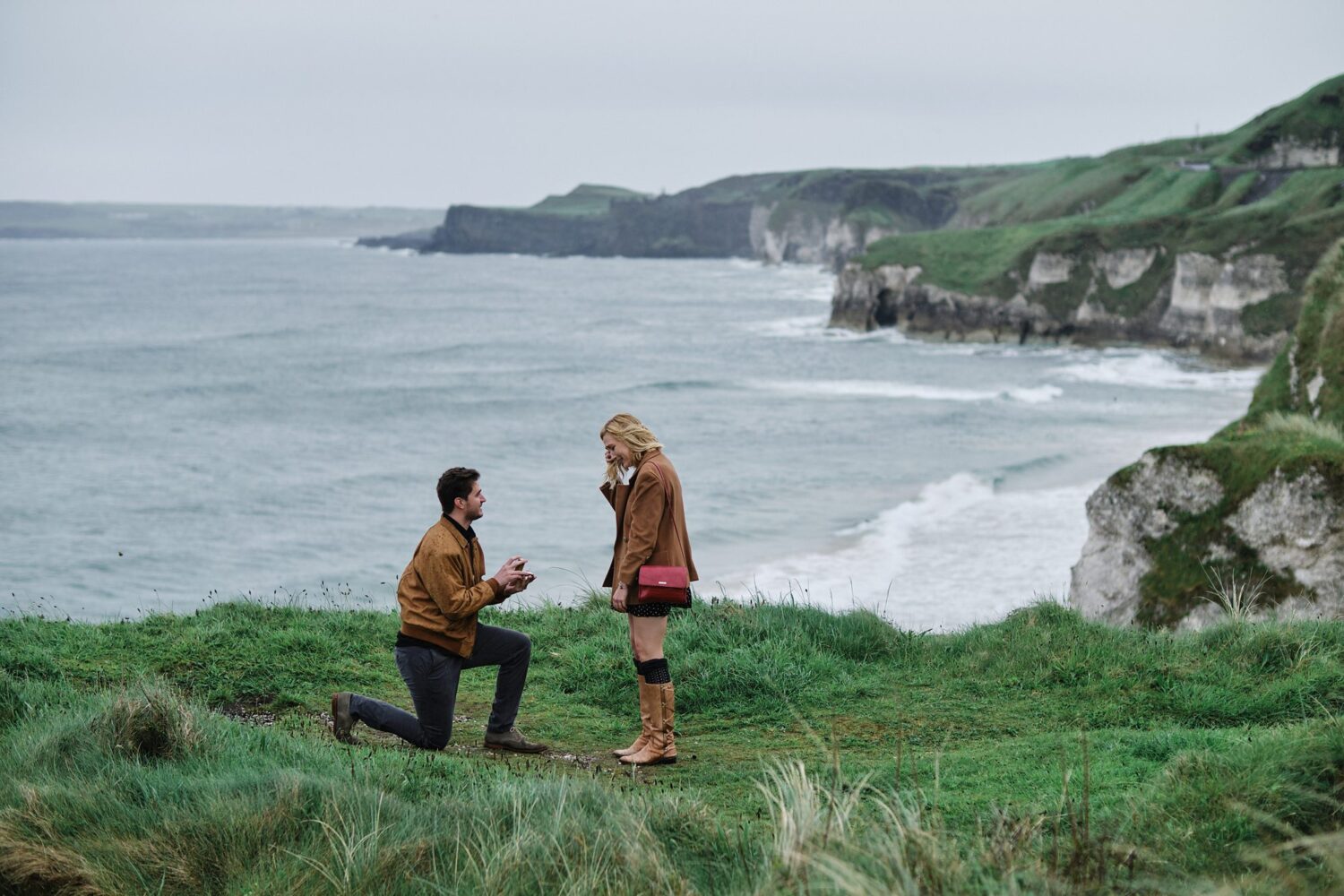 My advice to couples coming to Northern Ireland for a proposal-engagement-couples session, is to plan the shoot around either sunrise or sunset. If you're planning to visit the Causeway Coast area, then typically sunset works better and gives us more options for locations. The light is usually much better the closer you get to sunset - that is if the sun is shinning! In Northern Ireland, this cannot always be guaranteed - however, no matter the weather, the photos and memories will be worth it!
A Northern Ireland Proposal Session
After the most amazing proposal overlooking the Whiterock cliffs, we spent sometime exploring the beach below before heading around to the Giant's Causeway. We spent almost two hours exploring the Causeway in the wind and rain! It was amazing. Hunter and Johnnie popped some champagne and got to experience Northern Ireland at its finest, with dark moody skies and massive waves battering the ancient stones of the Causeway. They embraced the Irish weather and were well rewarded!
We finished off their proposal shoot overlooking the cliffs and ruins of Dunluce Castle. Sean, the farmer who owns the land overlooking Dunluce, drove us across the field to the cliff edge just as the last light was disappearing. The howling wind had picked up even more by then as we ended the shoot with some dramatic cliff edge shots, before retreating to Sean's cottage to warm up in front of an open fire and have a shot of whiskey to celebrate! The perfect end to a perfect evening!
Planning Your Visit To Ireland
If you'd like to book a Northern Ireland proposal session, then check out this guide HERE and get in touch as I'd love to hear from you! Why not also check out these three posts on the perfect locations for your proposal session.
Engagement Proposal In The Mournes
My Favourite Engagement Shoot Locations In Northern Ireland