If you're planning your dream elopement in the Mourne Mountains, or perhaps a surprise proposal or engagement shoot, then hopefully this guide will be helpful. It's important to be prepared for the weather (amongst other things) so I have put together this Packing Guide to help you prepare for your adventure in the Mourne mountains!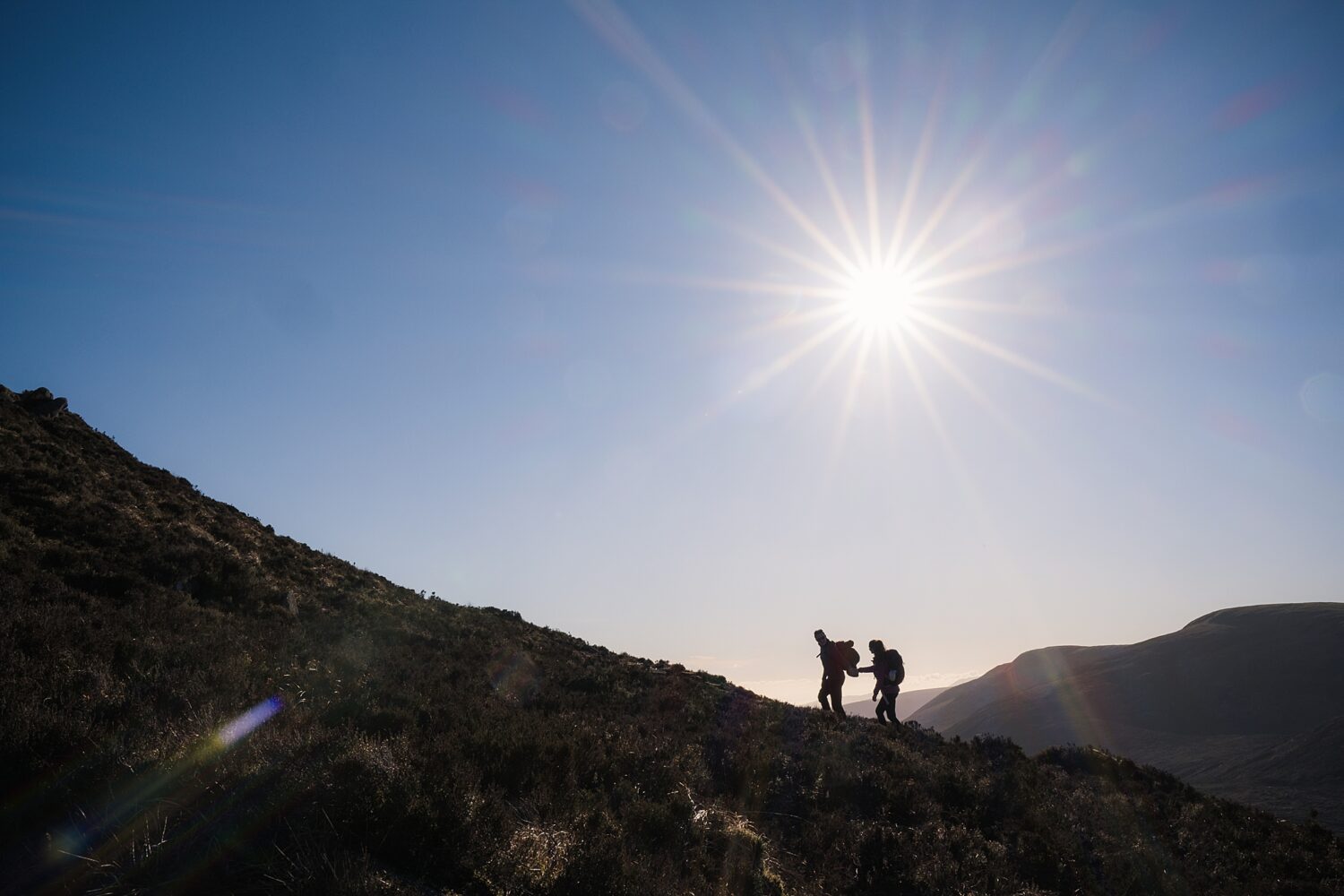 What To Pack For Your Mournes Engagement Or Elopement
If you've read my recent post on how to plan your engagement shoot in the Mournes, you'll notice there are a few options to consider when choosing your location - are you staying low in the valley or hiking up onto the summits? Deciding this first will definitely affect how you pack and plan your shoot. If you're staying quite low and possibly only hiking for 15-20 minutes from the carpark with very little gain in elevation, I would probably suggest that you wear your 'shoot' clothes from the very start. However, if you plan to hike further up into the mountains, I def recommend wearing proper hiking clothes as you hike up, and then do a wardrobe change when we get to the location. Being prepared for the changeable weather and conditions is critical in the mountains, however, it is this changeable weather that can help create unique and dramatic images!
Here is a list of gear I recommend you consider bringing on your Mourne Mountains Adventure!
A Rucksack
I'm starting off with this one as it's going to contain most of what follows. It's so helpful for at least one of you to carry a rucksack which you can store water, snacks, coffee, extra layers, change of clothes etc.
Warm Layers
Layering up is critical in the Mournes. If you're planning a shoot in the Autumn / Winter I would def recommend some good warm thermals or base layers, which you can also keep on during your shoot.
Hiking Boots
I never go into the mountains without hiking boots. Good footwear in the mountains is critical as the terrain in the Mournes can go from a dry maintained path to a wet bog in a matter of seconds. You can obviously change your footwear for the shoot, or keep your hiking boots on and make them a feature of your outfit - the choice is yours!
A Decent Jacket & Waterproof
Even in the height of summer, when you're high up on any of the summits, the temperature can drop considerably, especially as the sun goes down, and so a Down jacket is highly recommended. They are usually lightweight but extremely warm. A good waterproof jackets is also advisable just in case the weather changes.
Food & Water
Bring snacks and plenty of water to keep you going during the hike. If you enjoy tea & coffee, why not bring a stove and brew some - this will also make for some cool photos and help tell the story of your shoot.
Touch Up Bag
This optional, but sometimes when you hike, your hair and makeup might get a little messy so having a little bag with some touch up items can be helpful.
A Head Torch
Because I love to plan these engagement shoots in the Mournes around sunrise or sunset, that can mean at times you will have to do a little bit of hiking in the dark. It all depends on your shooting location and how far we need to hike, but bringing a head torch is a must especially if we're heading up onto the summits for golden hour.
Gloves & Hat
Even in the summer the temperatures can get quite cold especially if we are hiking for sunrise or sunset, so best to be prepared!
Rings / Vows
This will only apply to proposals, vow renewals or elopements. The last thing you want to do is get to the top of Slieve Binnian and realise you've left the ring box back in the car!!
Every shoot in the Mournes is going to be different so this list is a suggestion to work from - a lot will also depend on the time of year and the weather forecast. But hopefully it is a good foundation to work from when planning your Mourne Mountains Engagement or Elopement.
Happy Planning!