Ianna & Chris travelled from the United States for their engagement shoot at Kinbane Castle on the Causeway Coast of Northern Ireland. It's important to plan your engagement shoot around not only your favourite locations but also the time of day. In May, the days in Northern Ireland are long. Sunrise this morning was at 5:15am and sunset was at 9:30pm.
As summer approaches, the Causeway Coast can get very busy with tourists, especially during the day at the prime locations such as the Giant's Causeway & Dark Hedges.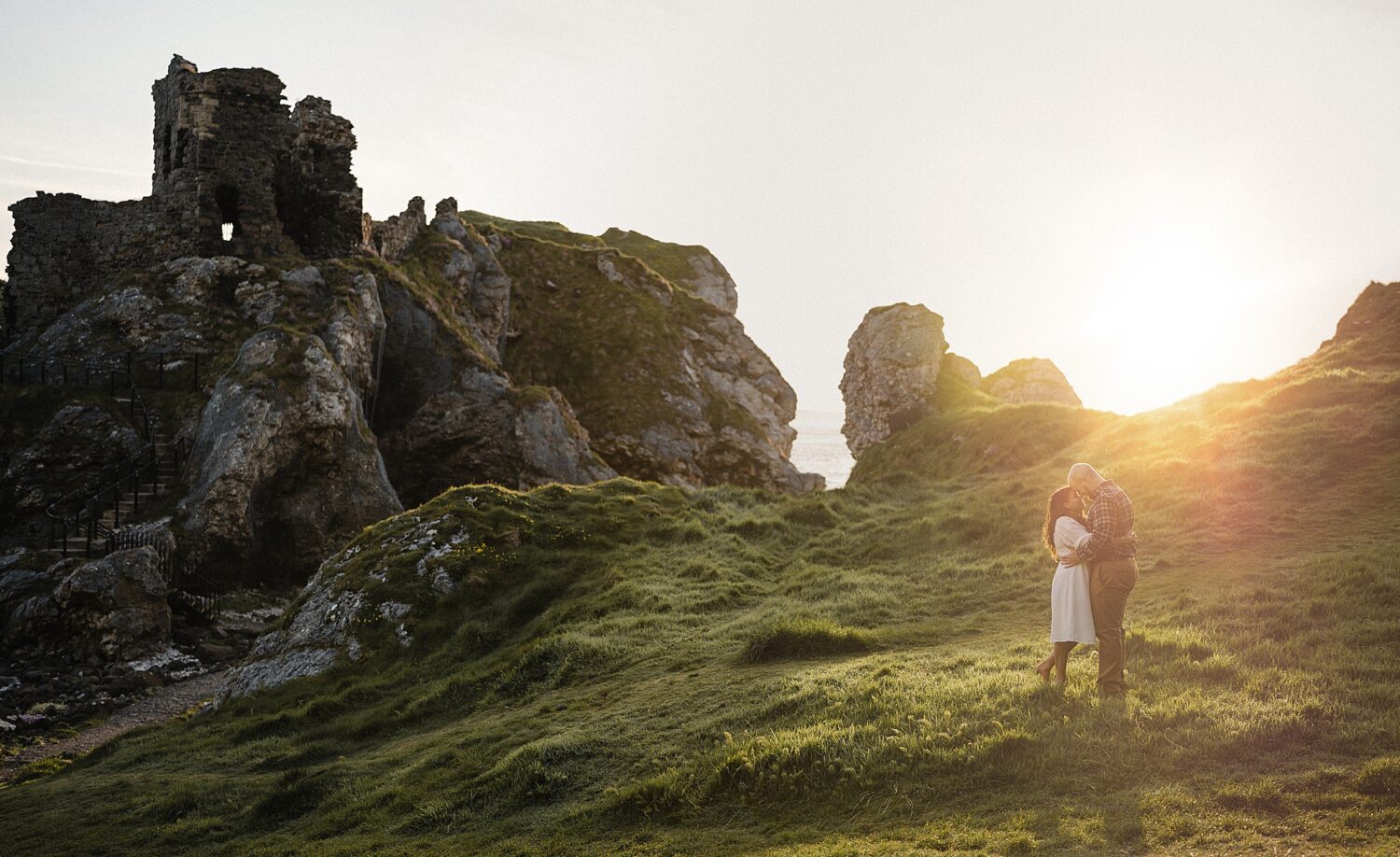 I recommended to Ianna & Chris that we start at Kinbane Castle at sunrise. Not only is Kinbane Castle a great engagement shoot location for sunrise in the summer months, the 5:15am start will probably mean you have the place to yourselves!
Another huge benefit of shooting early morning or late in the evening is that you get to chase golden hour light which can just take your photos to a whole other level!
Whilst many of the popular spots along the Causeway Coast work better at sunset in the summer months, Kinbane Castle is actually the opposite and works much better at sunrise.
Kinbane Castle Engagement Shoot
Kinbane Castle is located just outside the popular seaside town of Ballycastle and is only a 10 minute drive from the famous Carrick-A-Rede Rope Bridge. Kinbane means Whitehead and gets its name from the white limestone on which the Castle is actually built. Be prepared though as there are over 100 steps down into the secluded bay which offers amazing views towards Rathlin Island & Ballycastle.
Road access down into Kinbane is also a lot narrower which means most of the large Tour Coaches can't access it and so it is typically quieter than many of the other tourist spots close-by.
It is also located about 10 minutes drive from Ballintoy village where you'll find one of the best coffee shops on the North Coast, Ursa Minor (Minor). They are currently open Thursday - Saturday in Ballintoy with their main shop open in Ballycastle Tuesday - Saturday. It's the perfect coffee stop after your engagement shoot!
If you're planning an engagement shoot in Northern Ireland then make sure and check out my Guide HERE for more info on the Best Locations to consider.